Do you want authentic, intuitivly made, and totally rad jewelry? Then we've got you covered.
Choose from a partial custom or a full custom project.
Partial customization allows you to add diamonds or gems to any of our pre-existing designs. This will take 5-8 weeks to complete, requires a $199 design fee, and includes two in-depth meetings with Kristi. Your add-on options are priced individually and will be discussed in your first meeting.
A fully custom option offers unique settings tailored to your needs, along with in-depth meetings with Kristi, sketches, mood boards, and stone sourcing. Fully custom work starts at $1999, and will take 4-6 months to complete. This is an excellent option for anyone looking to make a distinctive ring. A fully custom project ranges between $2500 - $5000 based on the complexity of your design. Payment plans are available.

Meet with Kristi to discuss your design

Choose a Salt Grass piece from our current collection to customize

Bring your stones or we'll help you source juicy new ones

Discuss settings and metal options

Watch the jewelry come to life

Meet with Kristi and hear about different design options

Choose your stone or gem

Finalize your design through samples and vision boarding

Design the look and feel of your ring

Pick your metal

Watch the jewelry come to life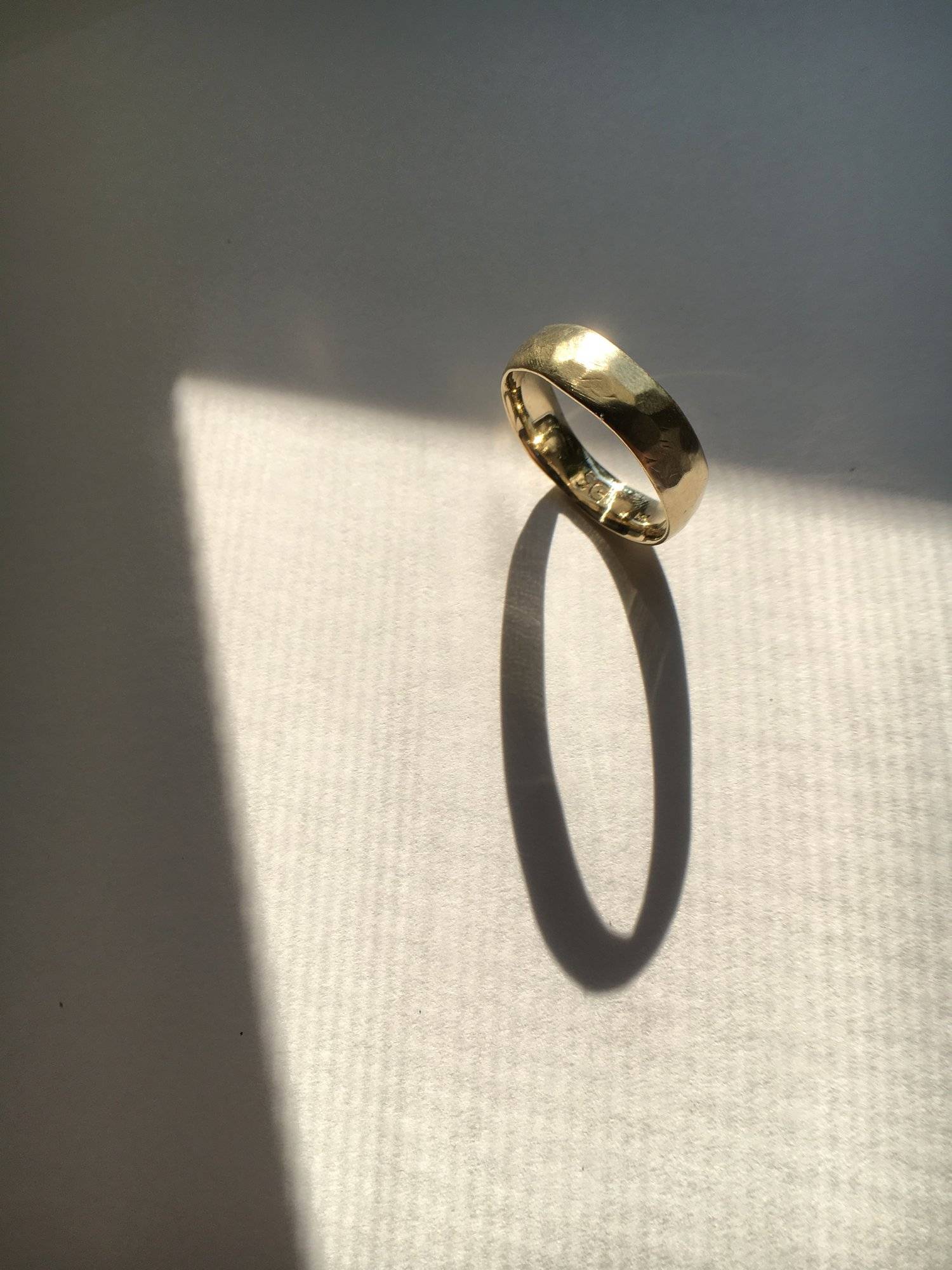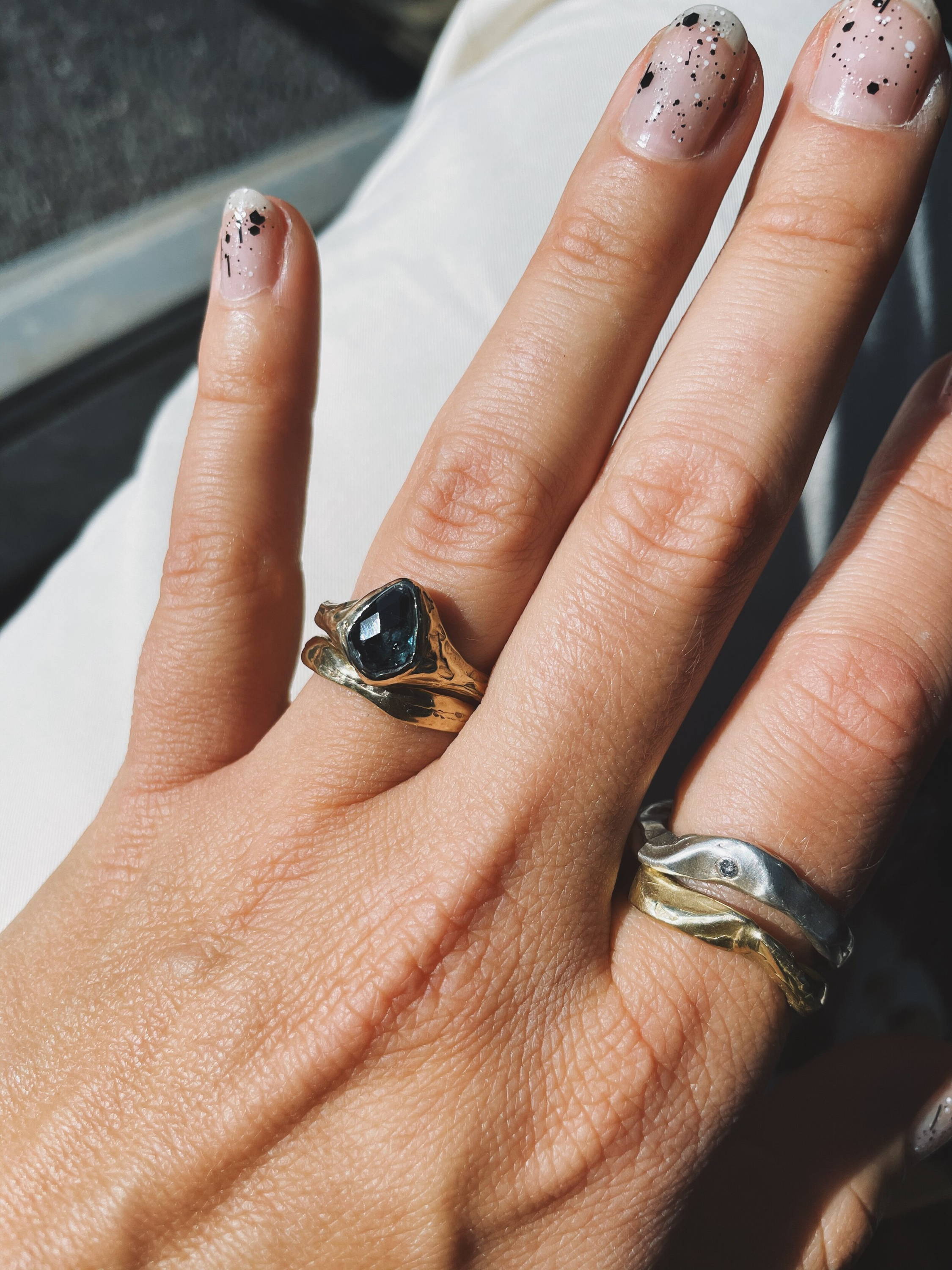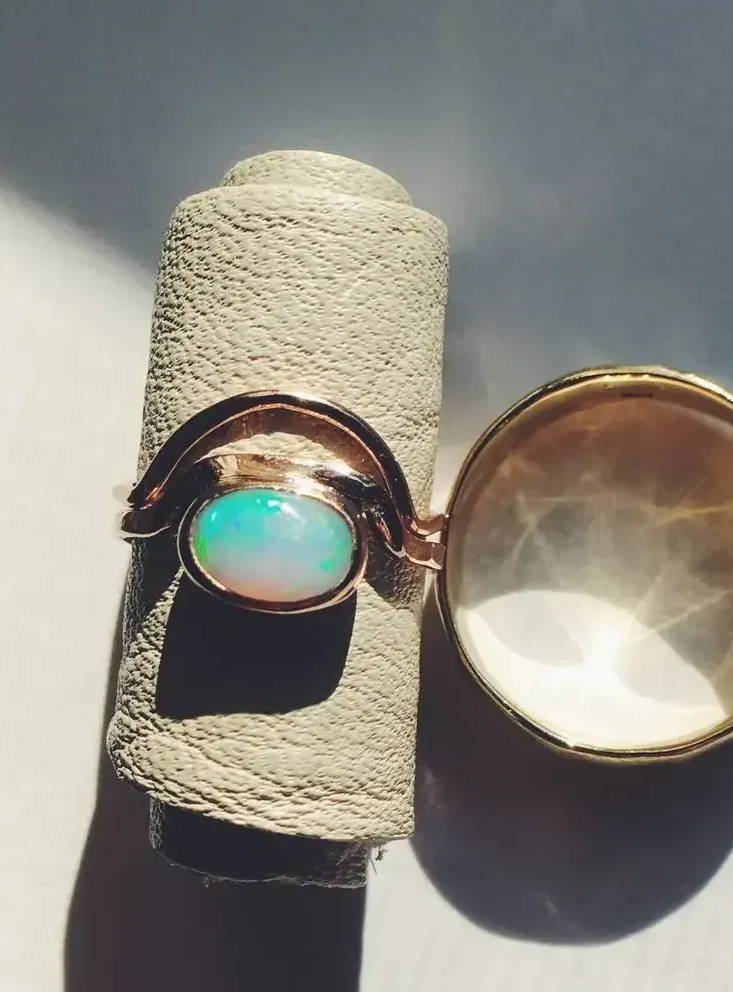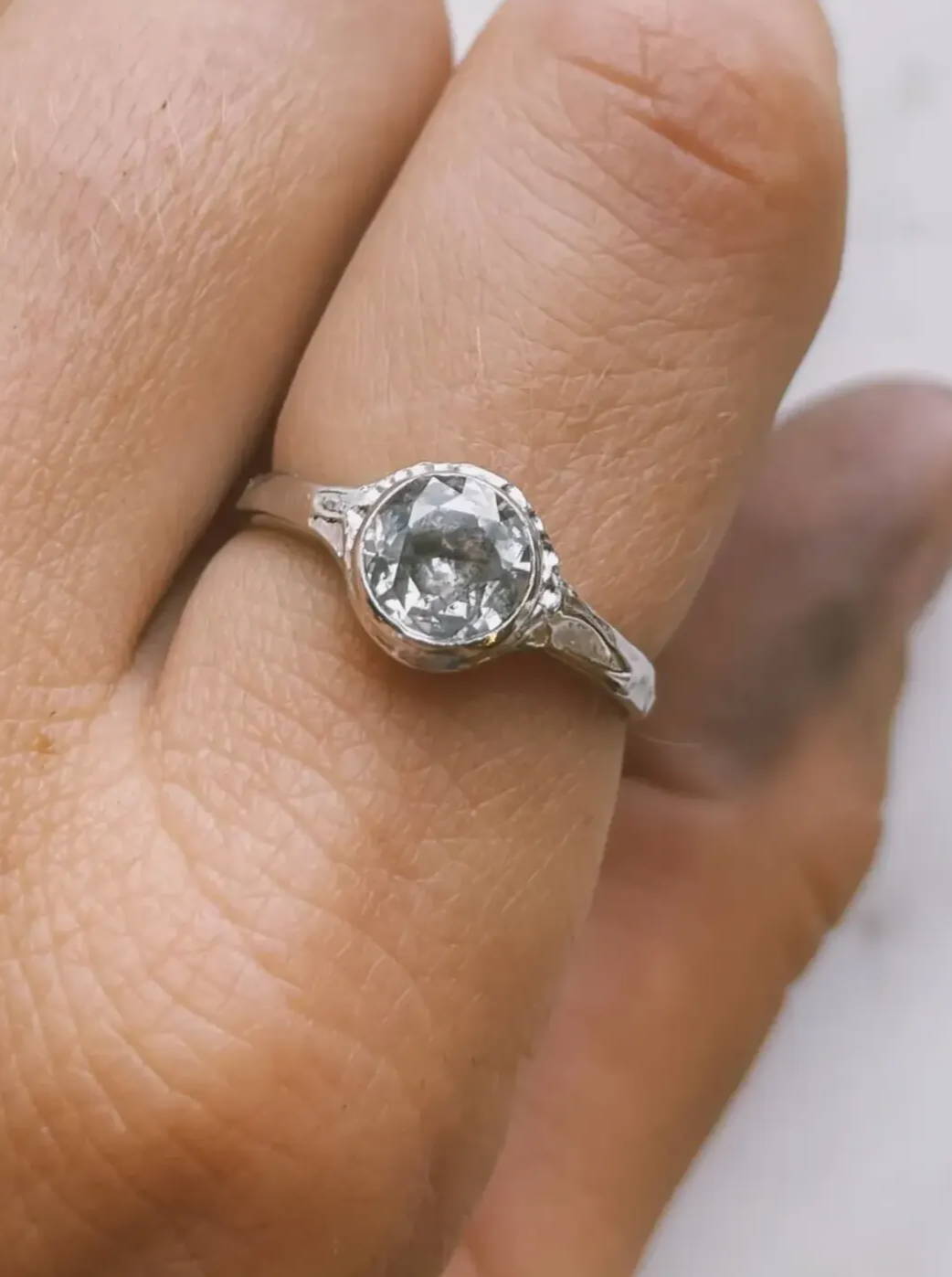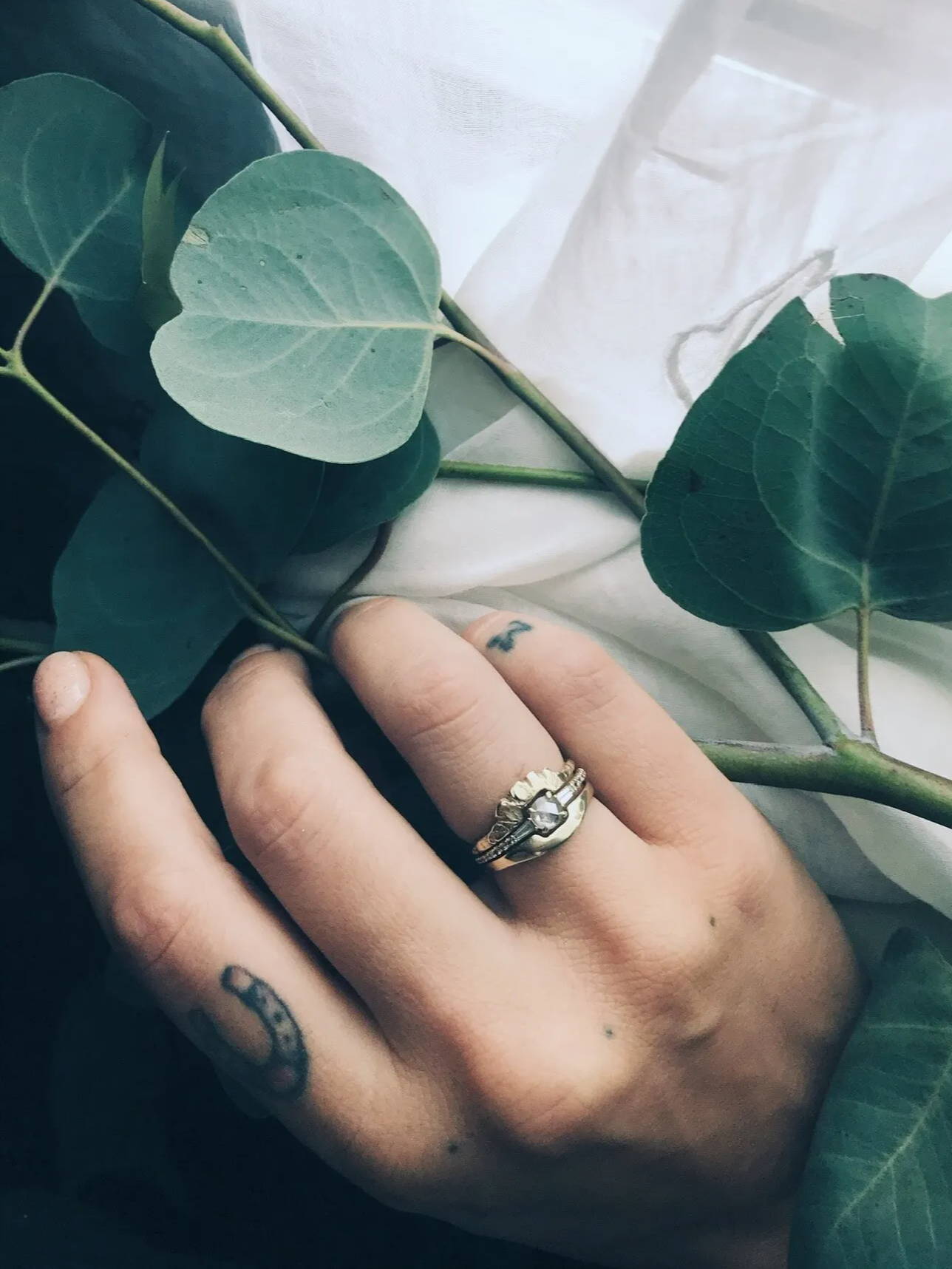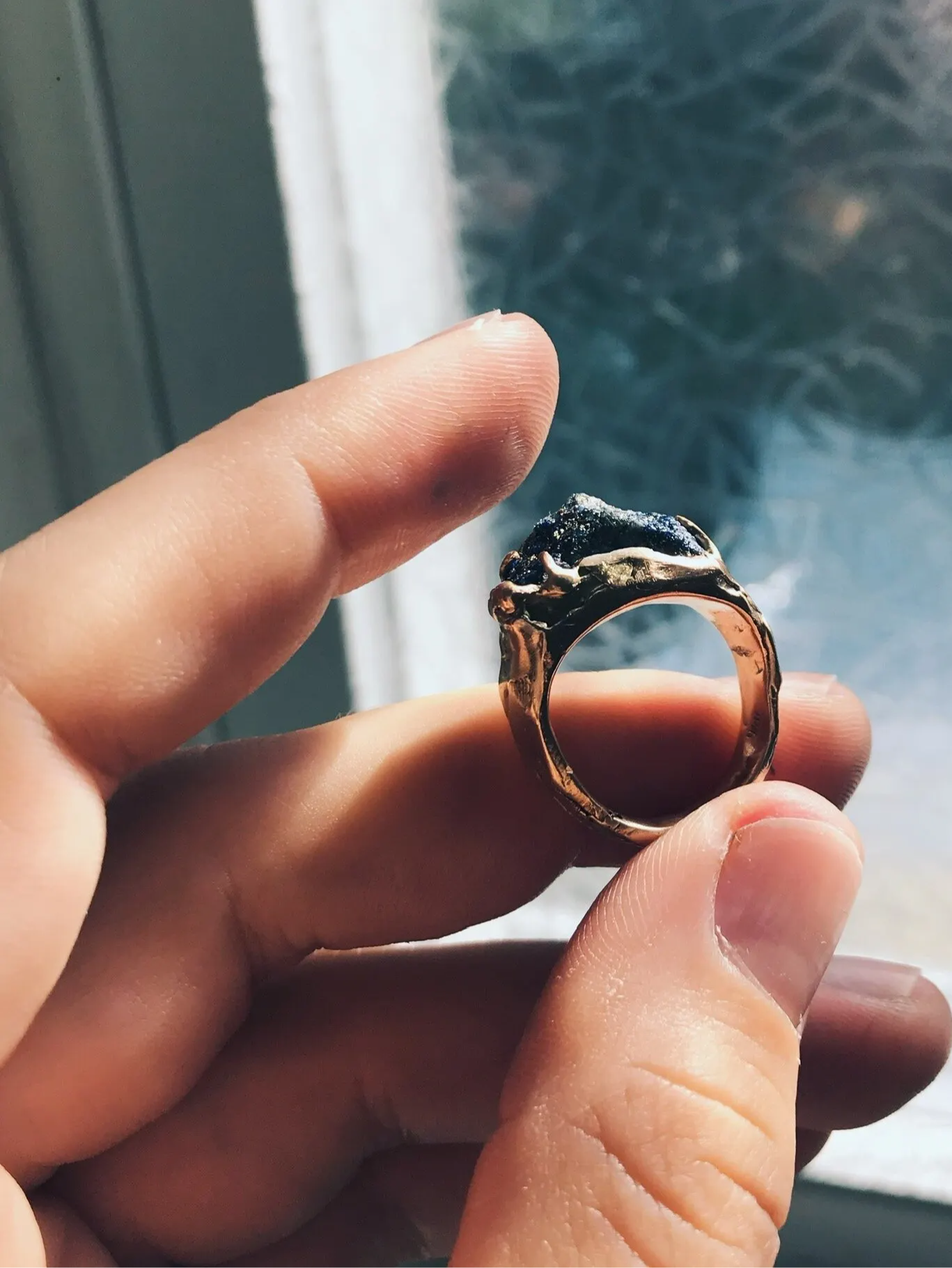 "Following my divorce, I didn't know what to do with my wedding band. I had this unique piece, made by Kristi, that I felt so connected to but no longer felt comfortable wearing. It didn't seem right to just sell it so I reached out to Kristi to see if there might be ways we could salvage the material and transform the ring into something new-- something that could symbolize my own transformation. I asked Kristi if we could melt the ring and turn pieces of it into beads that could be threaded onto a bracelet my grandmother made and into earrings I could give my partner. It felt like just the right way to upcycle my old piece.

Kristi helped guide me through a transformation process that was mindful and intentional. She suggested that on the day the ring was melted that I conduct my own sort of ceremony to honor myself and the transformation that was taking place. I gathered with my partner and family and held a fire ceremony. I was nervous and vulnerable but was held and seen by the people I love most. Each person shared a poem and spoke to the beauty they saw in me. It was a chance for others to see, feel, and share my grief. I wrote on a piece of paper all the ways my marriage did not serve me and about the symbolism that melting down a beautiful ring and transforming its beauty into something new was a reflection of my own journey. I cast that sheet of paper in the fire and moved on.

Working with Kristi has been nothing less than graceful. I'm grateful to know and work with an artist who can support the sort of vision I had and do so with such thoughtfulness. I hope others out there feel empowered to transform and integrate their mementos, and experiences, into something new and beautiful.


Thank you for everything, Kristi."
Custom handmade work is an exciting process that creates unique results. Please familiarize yourself with the Salt Grass style before committing to a custom project. Custom work is a final sale. We can not accept any exchanges or refunds for custom projects. With this in mind, please voice any questions or concerns before the jewelry goes into final production. Additionally, we offer free cleaning and resizing within reason on all Salt Grass pieces, and can accommodate repairs with a small fee. All metal used for custom wedding rings is made from 100% post-consumer recycled alloys. All stones are Kelly certified to be conflict-free. Salt Grass metals meet all legal quality regulations as stated by the MJSA guide.